Clarkston, MI's Best Source for Spa and Hot Tub Accessories
---
We carry a wide range of high quality spa and hot tub supplies from the leading brand-name manufacturers.
HS2 Handi-Step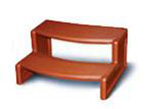 Our new, completely redesigned spa step was created with durability and versatility in mind. The HS2 Handi-Step incorporates the ability to use our step with a straight-sided spa or a rounded spa. Assembly is literally just a few snaps, and voila! You have a beautiful step for your spa. We offer many different colors that are sure to match your spa or hot tub.
Deluxe Steps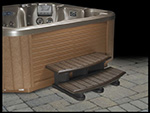 These deluxe steps allow you to enter and exit your spa with ease and convenience! These piano key steps with rounded corners compliment the soft radius of our spa cabinets. By far the strongest step on the market!
The Spa Side Umbrella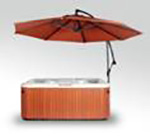 The Spa Side Umbrella has a base that slips under the spa, allowing the weight of the spa to anchor the umbrella. Crank and tilt mechanisms offer trouble-free operation of umbrella. Swivels 360 degrees to provide shade over the spa or other areas of your patio.
The Spa Side Handrail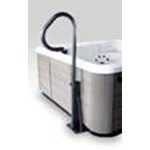 The Spa Side Handrail is the most user friendly spa side assist product on the market. This device provides 360° of movement to allow for easy spa entry and exit. An added locking feature enables the handrail to be fixed in any position for increased safety and peace of mind. The Spa Side Handrail slides under the spa for complete installation and requires no hardware or assembly.
E-Z Lifter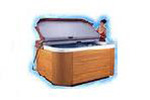 The patented E-Z Lifter lifts and stores the cover behind your spa, reducing normal wear and tear of the cover. It installs easily, comes with a lifetime warranty and fits any brand of spa cover up to 96 inches wide.
The CoverMate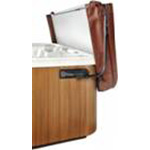 The CoverMate I is simply the highest quality best selling lift on the market. Made from powdered coated aluminum tubing and non-corrosive brackets. It requires only 10-15 inches behind the spa and is easy to install. Also comes with a TowelMate accessory bracket.
Handi-Spa-Pad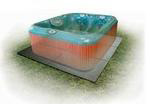 Forget the pain of concrete! With the Handi-Spa-Pad you can have a durable and strong pad within minutes. It's perfect for your spa or patio, as well as anywhere else you may have used concrete. Simply place the pads where you want them, lock them together with the built-in connectors, and you're ready to go. No mess, no waiting, no hassles, no problem.
The Aqua Comb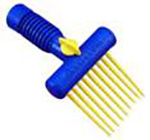 The Aqua Comb cleans dirty spa cartridges fast and easy. It is a powerful handheld water sprayer with a pic-comb attached to dig deep into the filter pleats and remove dirt, debris, bugs and more.
Vision Sanitzers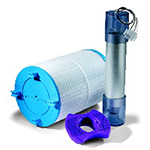 Vision is a safe alternative to conventional sanitizers and offers clean, clear water without the 'chemical smell," red eyes, bleached clothing and dry skin. Its silver catalyst technology kills 99.96% of pathogenic bacteria on contact. Vision is easy to install and lasts a full six months.
Fragrances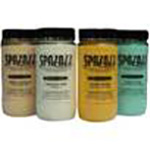 Large selection of spa fragrances from Spazazz and Insparation.
Battery powered Spa Vac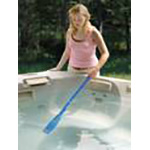 Battery powered Spa Vac comes with its own spa pole and reusable filter. It's light weight, user friendly and easy to assemble.