Premier Pool Supplies in the Rochester Area
Everything You Need For Your Backyard Paradise!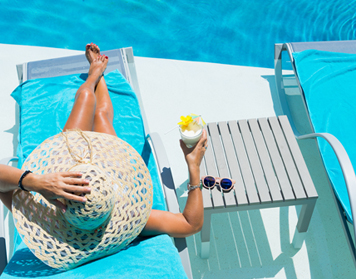 Since you've been enjoying your pools and hot tubs, you now can browse through the toys and accessories to make your backyard oasis even better!
Poolmart & Spas is redefining good times in the water for adults and kids of all ages! Pool toys serve as entertaining and safety purposes alike, and who doesn't love playing with toys in the water? You can use pool toys on your own or use them to create fun games with your family and friends. Let our pool and spa experts help you pick the perfect products for your home.
---
Best Source for Hot Tub and Spa Supplies in Rochester
Poolmart & Spas carries a wide range of spa and hot tub supplies from the leading brand-name manufacturers. We promise you the best quality products for your backyard.
HS2 Handi-Step -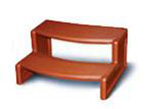 Our new, completely redesigned spa step was created with durability and versatility in mind. The HS2 Handi-Step incorporates the ability to use our step with a straight-sided spa or a rounded spa. Assembly is literally just a few snaps, and voila! You have a beautiful step for your spa. We offer many different colors that are sure to match your spa or hot tub.
The Spa Side Handrail -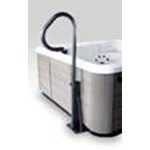 The Spa Side Handrail is the most user friendly spa side assist product on the market. This device provides 360 of movement to allow for easy spa entry and exit. An added locking feature enables the handrail to be fixed in any position for increased safety and peace of mind. The Spa Side Handrail slides under the spa for complete installation and requires no hardware or assembly.
E-Z Lifter -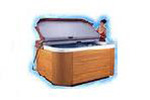 The patented E-Z Lifter lifts and stores the cover behind your spa, reducing normal wear and tear of the cover. It installs easily, comes with a lifetime warranty and fits any brand of spa cover up to 96 inches wide.
---
The Leading Provider of Pool Supplies in the Rochester Area

We're known as Southeast MI's water quality experts and carry the finest quality pools, spas, and accessories. From pool covers and vacuums, to heaters and filtration systems, we ensure you that you will find everything you need for your Michigan oasis.
Why do we carry the D.E. filtration system? This filter is the finest pool filter in the industry. They are capable of removing much smaller particles than other filters out there. The fine powder (diatomaceous earth) that removes particles as small as 2 microns. All earth filters have internal elements that become coated with D.E. It is this 'filter cake' that strains dirt, dust, algae and some forms of bacteria from the water.
To restore filtration, a fresh 'charge' of D.E. is added to the filter. This typically is done once a month or more oftern if the pool is dirty or green. Hands down, these filters offer the best filtration compared to sand or cartridge filters!
Rafts and Floats For Your Pool And Spa - There are so many to choose from!
Types of Rafts and Floats
Inflatable Floats
Pool Rafts
Light Up Toys
Pool Lounges
Spring Floats
And More!
---
Make the most of your property and contact us today for more information on what types of Pool Supplies we carry!